The Swarm
January 27, 2011
Todd Sines
I had first gotten my taste of "real" dance music in 1988 after hearing Kraftwerk's Musik Non Stop. After getting sidetracked with industrial, goth, hip-hop, shoegaze and post-punk, in 1990, MTV's 120 Minutes showed a clip of 808 State performing "Cubik" at a Manchester rave; I immediately set my sights on techno. In 1991, I was sent an early Mute comp, Paroxysm, to review for my zine, featuring Underground Resistance; Mad Mike Banks called me afterwards, sent some records, and left a deep, lasting impression. Shortly after, I found "From Beyond," Carl Craig's project as Psyche—almost a fusion of Kraftwerk and This Mortal Coil. Within weeks, our band, Body Release, formed with key Ohio players Titonton Duvanté, Charles Noel [Archetyp] and Mike Szewczyk, dabbling in techno, IDM, jungle and house before we embarked on our own paths. In 1993, via Brian Gillespie, I was introduced to Detroit's Carl Craig and Daniel Bell, which resulted in releases with Peacefrog, Planet E and 7th City within the year. We started throwing our own events, in collaboration with Ed Luna, as ele_mental in May of 1993, and brought Detroit artists to Ohio and vice versa. My world hasn't been the same since—and these photos document our cherished memories across the midwestern rust belt in pursuit of house and techno.
Titonton & Charles Noel aka Black & Blue @ Snowed*In, 1999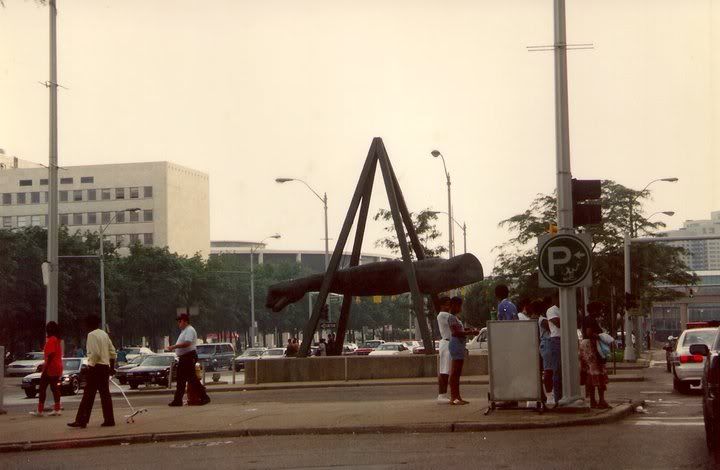 Welcome to the D.  // photo by Todd Sines
… where we meet you with a closed fist instead of an open hand. And the D stands for Drama. Shot in 1994, this monument is on Jefferson Ave just across from Hart Plaza, the site of the annual Detroit Electronic Music Festival.
Body Release in basement studio, 1992 // photo by David Miller
Prior to the inception of ele_mental and our solo careers in 1993, Body Release was the formation of Titonton Duvante [Metamorphic, Residual, 2000 Black], Charles Noel [21/22, Ongaku, Good Lookin', Rush Hour], Mike Szewczyk and myself. Titonton and Mike composed the songs on their workstations, Charles was the DJ, and I played analogue synths on top. Ed Luna frequently ran projections of footage, self-created and found, to make our live shows be a "multimedia sensation". The slum house we lived in during our tenures at OSU at 384 E. 17th in Columbus was home to the band, as well as a number of notable house parties featuring Paris the Black Fu and Brian Gillespie, who infamously told The Movement [creators of the rave hit "Jump"] to go fuck off when they wanted to play our afterhours… featuring all Detroit techno and drum & bass from West London's Reinforced Records.
Damian Higgins and Todd Sines, May 1993 // photo by David Miller
This was after our first "real" party—not a house party, but at an Ohio State University parking garage. I asked the OSU staff that I wanted to hold an "art exhibition" and they went for it. Dieselboy and I had been talking on the early rave / party lists SF + NE + MW-raves—and chatted using "vrave" the telnet chat room [prior to the invention of instant messenger apps] and we arranged for him to play, along side  Columbus DJs Rob Engel and Titonton. Somehow we managed get a projector in there as well.
Carl Craig on scooter, 1994 // photo by Todd Sines
Blue Collar / Databass / Twilight 76 / Throw's Brian Gillespie introduced me to Carl Craig in 1993 and he came out to hear Brian, myself and a few others play at some U of M frat party…but with really good taste in music. Here he takes a spin on someone's scooter.
Daniel Bell at his apt on Jefferson Ave, 1994 // photo by Todd Sines
At the same time, Brian Gillespie introduced me to Daniel Bell in 1993. While it was Carl who gave me my first appearance on vinyl, it was Dan who arranged a deal with Accelerate, 7th City and Peacefrog to do my first record as .xtrak. Dan and I shared a lot of mutual interests, from lo-fi analogue and FM synths + drum machines, to the whole Bauhaus "less is more" aesthetic. Clearly shown in this photo.
Archetype_Grip Mix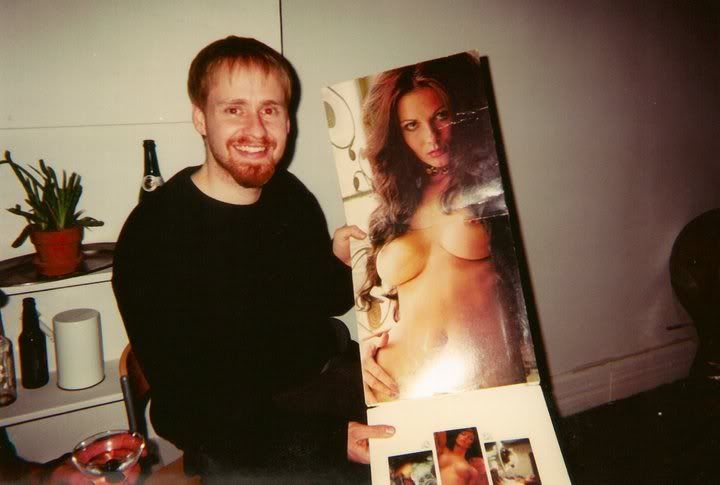 Stewart Brown from Servo // photo by Todd Sines
As mega-warehouse parties kept getting busted, we started to do events in art galleries + event spaces—here, in Dragonfly's NEO space in Columbus for New Year's Eve. Either Ed Luna or Kevin Moon—Moonstarr brought this salacious gatefold record that probably sounded like Bob Sinclar circa 1972.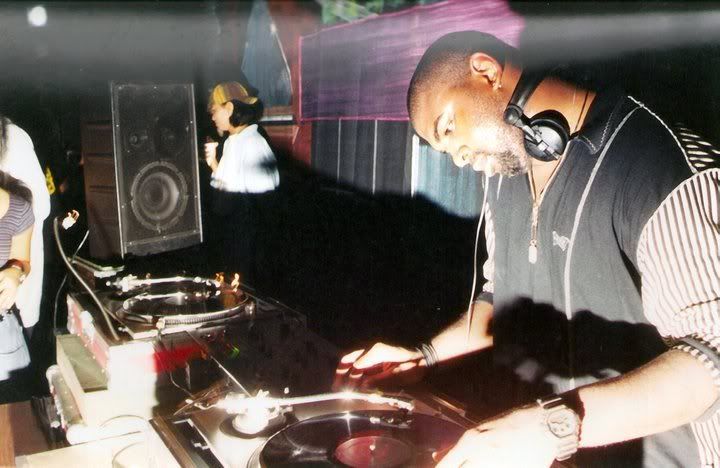 Solo at Detroit's Claude Young at Poor Boy, Packard Plant, June 1994 // photo by Todd Sines
One of Detroit's finest on Dow + Frictional, plays at one of Detroit's most infamous venues, the legendary Packard Plant ..at one of the most infamous parties, Poor Boy.
Claude Young at SOLO by Poor Boy, Packard Plant, Detroit, June 1994 // photo by Todd Sines
One of Dan and Shake's closest friends, Claude Young was coming up in the ranks of Detroit .. aka the "Third and a Half Wave"—those who started around 1992–1993. His first records on Dow, Acacia and 7th City left a deep impression on us all—how to be soft and abrasive and funky all at once.
Solo at Packard Plant, Detroit, 1994 // photo by Todd Sines
Eric Lynch, with Alan Bogl, Mark Bitsche and Steven Reaume were amongst the first party organizers in Detroit under the name VOOM. When Santos + I traded rave badges at rave in Cincinnati, Ohio in 1992, he invited us to come up to Detroit and do a party with Dat Duong + the VOOM crew known as Poor Boy. This was probably the second party I played in Detroit, alongside KMS's D. Wynn and Paris da Black Fu from the Detroit Grand Pubahs.
house room w/ D.Wynn + Todd Sines at SOLO by Poor Boy, Packard Plant, Detroit, June 1994 // photo by Todd Sines
While Claude played in the other room, Transmat / KMS's D. Wynn of R-Tyme fame played in the house room. In one room: Paris da Black Fu, Brian Gillespie of Throw, Carl Craig and Meredith Miller [then of Planet E, now of Red Bull], Carlos Souffront, Ed Luna of ele_mental, and the VOOM crew. This room was sweaty as fuck. I then had to follow him up.
Lenny Dee gets fucking hostile – Dayton 1994 // photo by Todd Sines
The Illuminators in Dayton were other party promoters with extremely good and wide-ranging taste .. from bringing System 7 live to Robert Hood and… Industrial Strength records magnate Lenny Dee. Fuckin' hostile. At the same party:
DBX, Derrick Carter, DJ Repete, Phantom 45, JJ Jellybean, J Goodwill, Titonton, Archetyp /Monochome,Todd Sines, and Jimi Doom.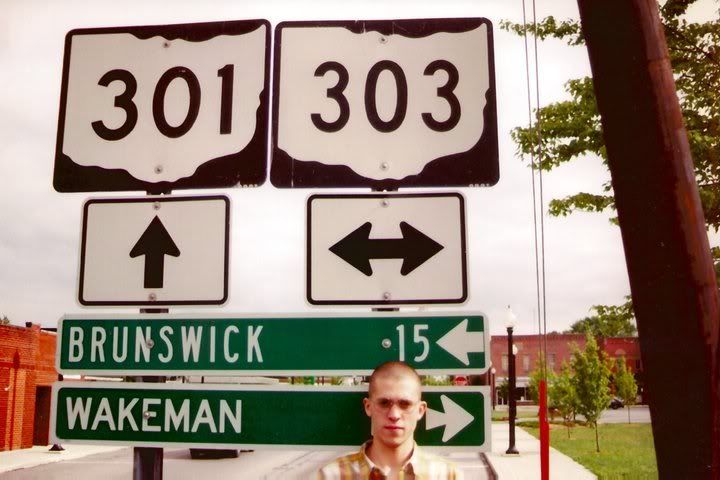 At a crossroads of ACID in Ohio, August 1994 // photo by Todd Sines
I found a Roland TB-303 in a pawn shop in mid 1992 in Columbus for $100, not realizing what a deal I had. Sadly I used it extensively live, but never really recorded it as such, and ended up selling it to my roommate, who, after 10 years, sold it for ~$1500. Ouch. Needless to say, Ohio treated me well in terms of finding a lot of cheap Roland analogue synths + drum machines; unfortunately I had to wait til I moved to NYC to realize just exactly how good I had it.
The Illuminators in Dayton were other party promoters with extremely good and wide-ranging taste .. from bringing System 7 live, to this party with DBX, Derrick Carter, DJ Repete, Phantom 45, JJ Jellybean, J Goodwill, Titonton, Archetyp /Monochome,Todd Sines, and Jimi Doom.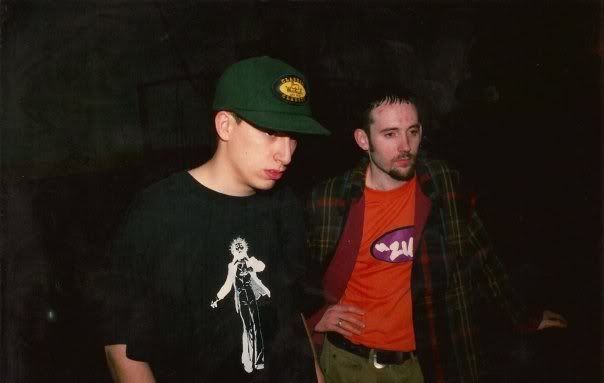 Morgan Geist and Dan Curtin watching Paul Johnson play in Columbus, 1995 // photo by Todd Sines
Metamorphic Records head Dan Curtin [whom I went to elementary school with] offered Morgan Geist and Titonton Duvante their first record releases in 1994/1995. Here they spectate as Paul Johnson played a blistering set of jacking Chicago house from Dancemania, Relief and Trax.
Paul Johnson playing at Metamorphosis, Columbus, 1995 // photo by Todd Sines
We immediately admired the ghetto jack sound of Chicago with releases from Dancemania, Trax & Relief. in conjunction with Rajeesh, ele_mental co-hosted this party with legend Paul Johnson who truly rocked the party, one the largest events ever held in Columbus, Ohio.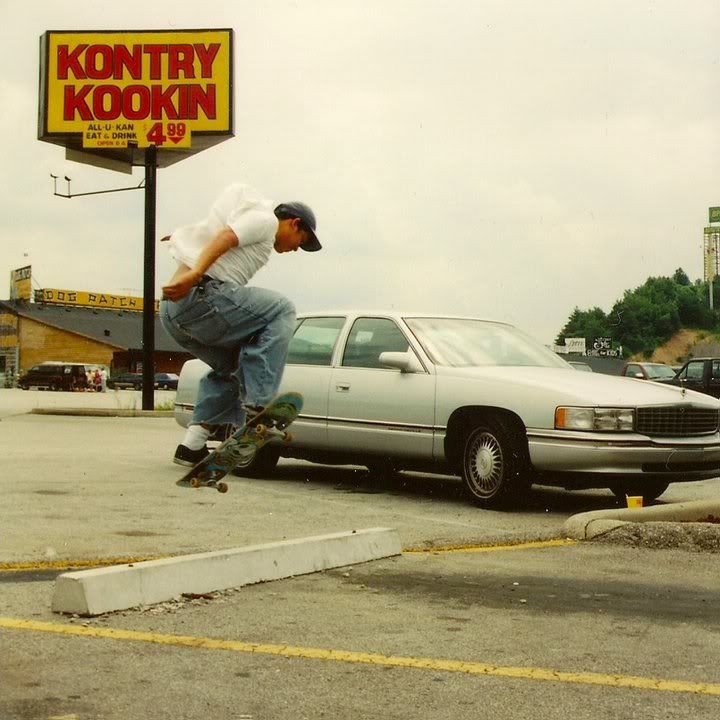 Jon Santos doing an ollie in Westbumfuck Virginia // photo by Todd Sines
Jon and Nancy drove from Detroit > Columbus > Orlando in August of 1994 to attend SIGGRAPH—our first real introduction to the world of professional nerds in visual effects, animation and computer graphics. We stopped at gas station along the way in West Virginia and noticed that we were Klanville. YiKKKes.
Thomas Brinkmann, live at Speak in Tongues, Cleveland, OH June 2, 2000 // photo by Todd Sines
We'd been following Thomas's releases on Kompakt / Profan  and his own Max Ernst—his sound was fresh and laden with funk. Here he plays Soul Center live with Riley Reinhold [RRR] to a sweaty crowd on possibly the world's loudest sound venue for its size, Speak in Tongues.
Detroit for All / All for Detroit // photo by Todd Sines
I'll always have a soft spot for this place… and it will always be a home away from home.
Todd Sines + Natacha Labelle, live at Una Mas, Toronto, January 2003 // photo by Francis Wong
After the release of our record on Planet E—we did a series of release parties in 2003 in Detroit, Columbus and Toronto. Toronto's own Moonstarr + James Duncan opened up; followed by a live set of Pantiki, myself and Natacha, then closing with a set by Carl Craig. It was a great exit from Toronto, on my way to New York a month later. Definitely one of my highlight gigs over the years.
post DEMF 2005 at Plaka Cafe, Greektown, Detroit // photo by Plaka waitress
After Melvin "Traxx" Oliphant closed the "soft curls" stage at the fest, he rounded up pretty much everyone who was still standing to head for "breakfast" around 1 or 2 am. Seventeen people took over half the restaurant which included BMG. Amber and Erika from Ectomorph; John Selway and Elliot Taub from Neurotic Drum Band, Charles Noel / Archetyp, Maurizio Dami [Alexander Robotnick], Marco Passarani, and Tommie Sunshine.
You can view the rest of Todd's amazing collection on Facebook