The Swarm
July 01, 2013
Barry (The Baker) Auguste
This animated clip was created for Julien Temple's documentary on Joe Strummer, The Future Is Unwritten, with drawings by Esperanza Romero, music by The 101'ers, and voiceovers by Joe & Esperanza at Maida Hill, W.9.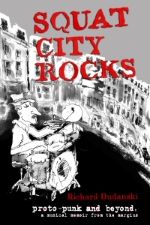 Do you like roller coasters? Of course you do. Then you're in for a thrilling ride via Richard Dudanski's spanking new autobiography, Squat City Rocks: protopunk and beyond – a musical memoir from the margins. In this rip-roaring confessional , Dudanksi fully explores his musical journey through the glory days leading up to and in the thick of the punk revolution, during which he pounded the drum skins with the likes of The Raincoats, Public Image Ltd., The Soul Vendors, Basement 5, and many other cutting-edge bands of the day.

Significantly, Dudanksi's entrée into that world stemmed from his place as "Snakehips," the primary drummer for the 101'ers – the pre-punk pub rock outfit where Joe Strummer first honed his frontman skills, and whose untimely demise coincided with Strummer forming the more au courant Clash. Squat City Rocks lovingly details the author's 28-year camaraderie with Joe Strummer, who proved a close friend throughout his life. Dudanski's memories of the ups-and-downs of their friendship make for captivating reading, as Richard observed sides of Joe that few others were witness to. In fact, he probably knew Joe better than the majority of his friends, and observed firsthand the evolution of a self-conscious, untested Woody Mellor into the forceful and dynamic "Joe Strummer" that I would get to know later with The Clash.
Richard's life hasn't proved so smoothly unproblematic – far from it! Instead, it was filled with dramatic adventures that fueled his playing and shaped his politics; as he admits early on in Squat City Rocks, he was "always looking for something else," a theme that would recur throughout his life. Richard charted his own course, rarely deviating from his path to follow fashion or trends – along the way alternating between remarkable musical highlights and the depths of despair. As such, Squat City Rocks reads like A Clockwork Orange meets Steptoe and Son. Replete with stories of 'biker-boy' revelry, police raids, electrical fires, stolen equipment and hair-raising escapades, it also serves as a fascinating examination of a squatter's survival options back in England's dismal early 1970s, with it's dire housing shortages, trade union agitation, and general economic strife (although as Richard pointed out to me, things are far worse today in many ways, making his memories that much more significant.) He explains in detail the squatting community that existed in the ruins of West London, portraying an almost gang-like existence as they went from squat to squat – breaking in, occupying the premises, and making themselves at home. The poverty they chose makes for riveting reading, as they existed without hot water or electricity, drank tea from jam jars, and were forced to scavenge for fruit and vegetables lying discarded in the street after the local market closed. Squat City Rocks proves not only a testament to the determination to succeed of those willfully forgoing the basics of life: it also serves as a sobering glimpse of how a sizeable section of the U.K.'s population back in the '70s existed day to day. Despite the bleakness of the landscape, Richard manages to find something like grace in all the violence and hardship, in no small part to his self-assured, incandescent prose.
Of greatest interest are Richard's vibrant memories of the trials and tribulations of getting the 101'ers up and running as a working band. His crude reminiscences of "stuffing mattresses in windows for sound-proofing," using "broomsticks for mic stands," and "trundling the drum kit and amps in an old pram" provide vivid examples of the band's hubristic attempts to succeed despite meager means. His insights into Woody Mellor's gradual development from an novice rhythm guitarist into Joe Strummer, bandleader, are priceless: with unbridled enthusiasm, he describes the topsy-turvy earliest days of the 101 All Stars, the impromptu "Squat-Bops," and the spit-and-sawdust pubs and clubs the band played in, complete with "burst blisters and bloodied knuckles." Anger never sounded so righteous, nor so proudly optimistic, as when Joe spat out the words to his earliest songs. As Richard notes, "It was extremely high-octane rock'n'roll that hurtled along at a speed and intensity that would leave most 'Teds' aghast at our sacrilegious versions"; he then contrasts those passionate "helter-skelter R&B nights" with their daytime nightmare of dangling, rain-soaked electricity cables, dodging holes in floorboards, and frequent break-ins and fights with intruders. Capturing the hardships and pressures, Richard paints a picture of an indissoluble troupe of derelict outlaws.
Over a two-year hand-to-mouth existence, the 101'ers performed virtually non-stop in the rowdy pubs and clubs of the mid-'70s – running the gamut from the St. Moritz in seedy Soho to the new age, pre-Spinal Tap Stonehenge Festival in Wiltshire and pretty much everything in-between. "Music was so very important to everyone then," Richard writes of that era in Squat City Rocks. "It took the place of religion!" But just when the 101'ers gambit started paying off, the band ran smack-bang into punk rock in the form of The Sex Pistols. Instead of propelling them to the heights they so richly deserved, the arrival of Rotten, McLaren, & co. spelled the end of the band instantly. This was justice as rough as they slept, especially considering they had spent the best part of two years espousing a do-it-yourself revolution in cultural consumption that rejected top-down, centralized authority and conventional tradition. As current Uncut editor/then Melody Maker editor Allan Jones shrewdly observed at the time, "They broke every rule in the book and represented the advance raiding party on the rock establishment."
The aftermath of Joe Strummer's departure from the 101'ers and the immediate fallout proves absorbing, as the tale has never been told quite so intimately before. Following the agonizing dissolution of the band, the squat fell apart, with each of the occupants going their own way. Eventually, Richard picked himself up and continued his musical voyage, recounting the extraordinary unforeseen twists and turns of the British music industry, and his skirmishes with some of the most famous bands from the post-punk years. Eventually he became the drummer for Public Image, recording the band's classic album Metal Box with PiL's John Lydon, Keith Levene, and Jah Wobble – a collective he found "brimming with possibilities." But once again, as things were looking up, the venture simply collapsed, and he left in a flurry of mutual accusations and reproaches.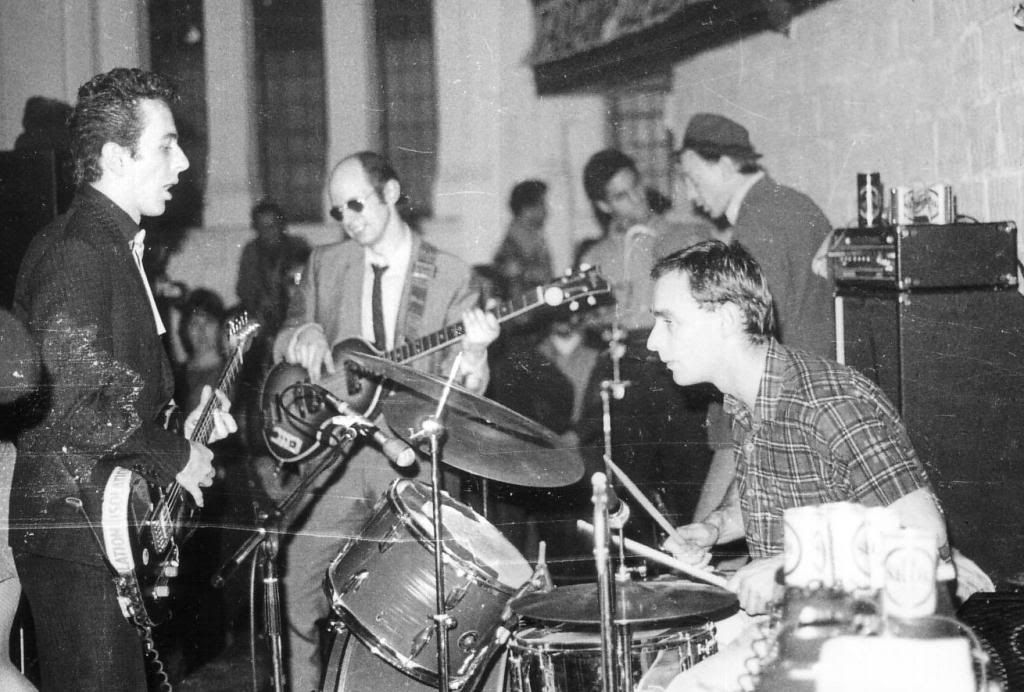 Richard Dudanski drumming with the Soul Vendors at The Tabernacle. (Photo courtesy of Esperanza Romero).
Gradually, with the perspective of time, Richard's relationship with Joe Strummer was reconciled and their friendship renewed. Reunited, they formed the Soul Vendors: along with old pals Derek Goddard from The Raincoats and Mole from the 101'ers, they rang in each New Year with pulsating R'n'B, ska, and 101'ers originals. Out of that, the old 101'ers tapes and recordings were pieced together for the explosive album Elgin Avenue Breakdown on their own label, and the musical circle of that seminal band was finally complete.

At the heart of the book is the crucial lead-up period before punk detonated onto an unsuspecting public. The wind of change was in the air, and everyone in the various London scenes seemed to instinctively feel that something momentous was germinating. It was a pivotal point in English pop history – the explosion of The Sex Pistols onto popular culture and the birth of punk rock. Nothing would ever be the same: Richard provides a blow-by-blow account of these events from his own perspective, the process inevitably revealing lives that were connected as much by dignity and courage as by thoughtlessness and deceit. He lays out the undeniable uncertainties of the situation with skill, explaining his own personal dilemma of pursuing a career playing music whilst maintaining his own dignity. His pangs of conscience come off as intense and moving; after rejecting the commercial path of pop music and fame, the disordering questions within his trenchant voice prove plainly evident. But as Richard learned the hard way, integrity doesn't pay the rent.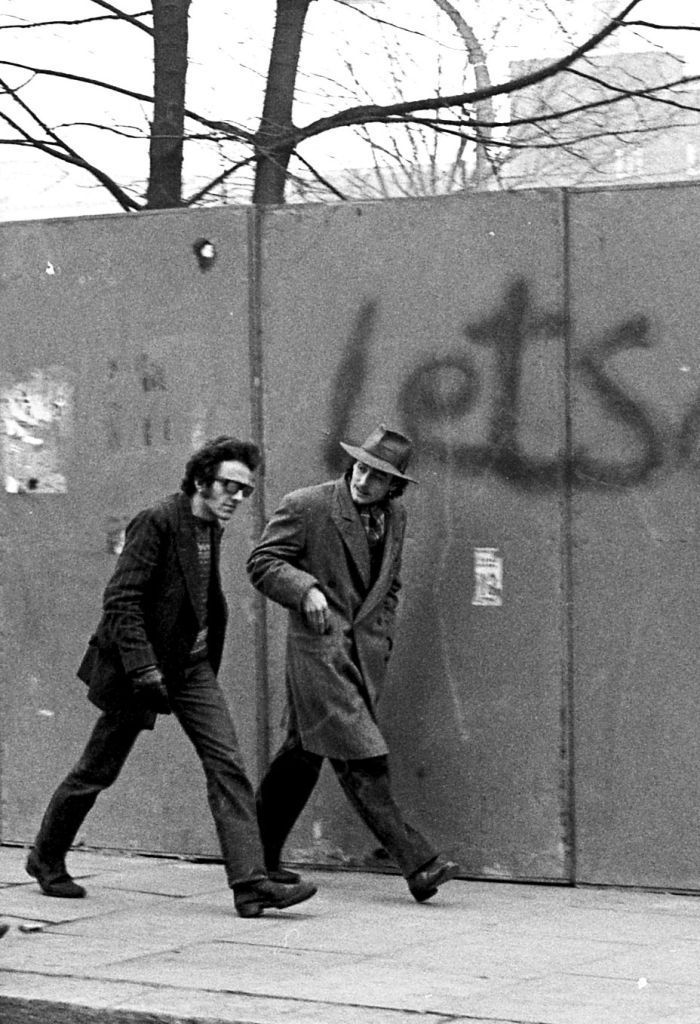 Despite Richard's candid self-examination of his own personality traits and inner struggles, reconciling his immense talent with the various detours of his life proves clearly difficult. Squat City Rocks is the opposite of the victory lap one might expect from such an accomplished musician who was there at the right time, at the right place. As he admits in the prose, "It is probably true to say that if I had climbed down from my high-horse on more than one occasion I would have had a much greater success ." Here, Richard drops the veil, ultimately revealing a tragic tale of cruel fate and unfulfilled destiny which puts forth two unanswerable question that leave one's head spinning. If the 101'ers had not disbanded there would've been no Clash with Joe Strummer; if The Clash had not chosen Joe Strummer as a prospective singer, then perhaps the 101'ers would've maybe gotten their due and evolved into one of the great rock and roll bands that Joe's charisma and commitment promised.
Squat City Rocks doesn't necessarily yield any neat lessons; instead its terse, factual entries peel back the skin to expose the bloody sinew beneath a rough-and-ready garage band. As a narrative, Squat City Rocks proves highly readable and accessible, even if at times the tone feels rather too brusque – Richard's sentences simply too incisive, his observations too astute (then again, that was the prevailing attitude in those days.) But while the stakes swing, Richard never lets go of the reader's attention.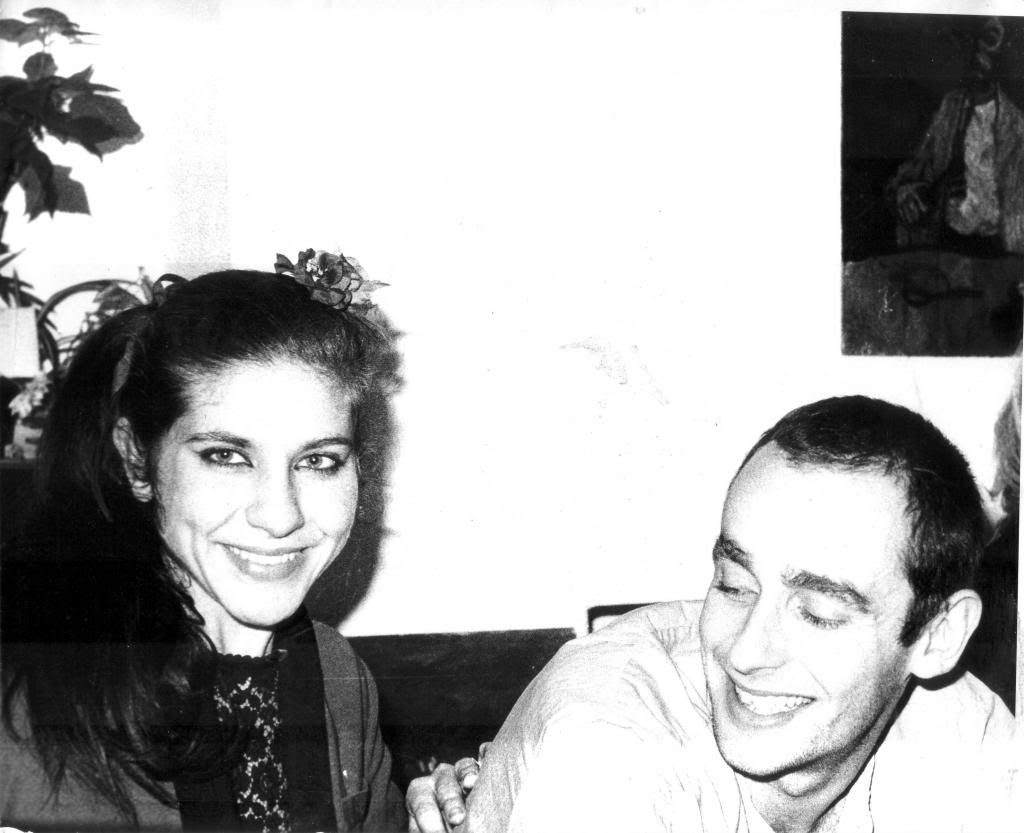 As well as numerous photographs, the book also includes thirty very perceptive illustrations by his wife Esperanza, many of which were drawn at the time, representing a hand-drawn record of Richards's journey. As all of these elements fuse together, Squat City Rocks becomes a tantalizing glimpse back at those heady days of our musical past from someone who lived it from the bottom up. Anyone who is a Clash aficionado, a 101'ers fan, or has an inherent interest in those riotous, uncontrollable days of the 1970s when music could influence politics and lifestyle will find Squat City Rocks undeniably essential, and surprisingly trenchant. Indeed, if the future is created from the ruins of the past, then Richard's musical memoir will surely stir the imagination of tomorrow.

As one of the band's beloved roadies, The Baker served as a key insider from The Clash's 1976 beginnings until the classic lineup's demise in 1983; as such, he's eminently qualified to suss out the real deal behind the myths, legends, and rumors – after all, he was there.
Photo of Joe Strummer and Richard Dudanski deep in discussion courtesy of Julian Yewdall.