The Swarm
July 22, 2011
Michael Mercer
When I was moonlighting as a custom A/V installer, running wire was the enemy. While it was a vital part of the job, I simply detested it. Before any quality wireless products hit the market, it was hard-wiring that allowed for playback in multiple rooms. The bandwidth just wasn't there yet, and so we were forced into tight crawlspaces, reams of wire in hand, crawling through dingy basements and areas only rodents knew, before we lined those areas with speaker and data wire. Thankfully, those days are nearing an end. I'm not saying that hard-wiring is dead; far from it, actually. If you're looking for the ultimate in high fidelity, it's still the way to go. The advent of well-designed and well-implemented wireless technology, however—just in the last five years alone—has made it possible to get decent sound without venturing into the crawlspace.
Sonos is leading the way in wireless home audio. Are there other companies doing what they do? Yes, but many of them manufacture products far more expensive, and with that often comes a complexity in design that doesn't necessarily result in better performance. I consider Sonos a leader for a number of reasons, but the most important are what I consider to be vital attributes in a modern-day audio product:
1) The hardware is simple to set-up.
2) The software (in the form of apps and easily-installed interfaces on your home computer) offer straight-up compatibility with products we are already comfortable with (I use my iTouch as a remote, for example).
3) Their players (in our case we're using ZP90's) sound terrific when mated with the proper outboard gear (they provide digital COAX and optical outputs, allowing the user to connect them digitally to their A/V receiver, DAC, or digital pre-amp). Even their on-board analog outputs (accessible via left-right RCA terminals) sound musical enough to provide dynamic background music on the porch or in the living room.
4) They look sleek and modern. The people at Sonos don't neglect the ever-growing importance of design—something where many high end audio companies fall short. They know Sonos customers are going to see their products around their homes, and being easy on the eye is essential. Purists can say what they want. It's 2011, get over it.
Honestly, setting up the Sonos was so easy I was streaming music around my home in a matter of minutes. First I installed their ZoneBridge—essentially a Wi-Fi booster for the Sonos system itself, so you don't tax your bandwidth coming into the house as much. (People with faster broadband may not even require one.) All I had to do was plug a CAT5 data cable into my wireless router, and then into the Zonebridge. The Zonebridge then communicates with the players over your Wi-Fi network. After that I installed two ZP90 players in the rooms, and downloaded the Sonos app onto my iTouch (as well as installing the Sonos controller software on my laptop). Once I launched the software and the app, it escorted me through a five-minute set-up procedure that would have required serious effort to screw up.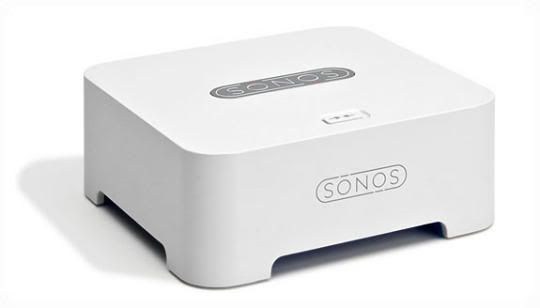 Since then, we have been listening to everything from our iTunes library to Last.fm, Pandora, Stitcher Radio (so we can get out Kevin Smith/Smodcast Internet Radio fix – aka S.I.R.), and now Spotify. It has become our new tuner, a way to discover new programs and stations we had not heard of before. Its ease-of-use has made it my wife's new favorite piece of equipment, and we don't need to turn on our television in order to access the menus. The interface is also slick, and is a pleasure to navigate.
One ZP90 player is installed in my reference system, connected via my Music Hall DAC25.2 (previously reviewed in Sonic Satori) and it sounds terrific. The other ZP90 is feeding a pair of AUDIOENGINE A5 powered speakers (also previously reviewed) in the office. Our entire Sonos experience has been thumbs up from the moment we got it humming, and they will need to send a hitman to get this gear back. (Editor's Note: Anybody know somebody, if ya know what I'm sayin'?) Indeed, the best compliment I can give Sonos is this: now that we've been living with it for months, we don't feel like we can live without it. It feels great to be plugged into the new wave of radio (a.k.a. the Internet) as we are again discovering new music all the time. This product is a must for fellow music addicts looking to spread their music around their homes without surrendering their next mortgage payment to a custom A/V installer.
Sonos also offers a line of powered speakers if you don't already own a hi-fi system. We didn't need them so we did not request a set for review, but from what I have read they are easily transported from one room to another, or even poolside
Perreaux has been a respected line in the high-end audio industry for many years. The name achieved cult-like status in the '80s over here in the States, with a solid reputation for both musicality and durability. Their gear is designed and built in New Zealand, and quality control is something the company takes very seriously. What a foreign concept these days; building something and actually standing behind it for more than thirty days! When you purchase a Perreaux product you know you're going to have a decent support structure behind you, and that's the way it should be; especially when you decide to spend time and money on high-end audio equipment. Many Perreaux devotees who purchased their equipment many years ago still own it—a testament to the company's dedication to quality products (not to mention the strong resale value of their amplifiers and pre-amps).
Unfortunately (for us in the U.S., anyway), Perreaux has been focusing their efforts overseas for awhile now, and their distribution channel on this side of the pond has been scarce to say the least. Fortunately they have found a dedicated distributor in Fidelis A/V, and the press surrounding their latest Audiant 80i integrated amplifier has been overwhelmingly positive. In fact, the reviews have been so complimentary, I felt like I needed to take a stab at this ultra-modern looking piece of audio gear, so I reached out to Clinton Jensen, an engineer at Perreaux. Clinton is one of the most courteous and professional people I have ever dealt with in the high-end audio industry. (It's a niche filled with crazy characters that produce some of the world's greatest sounding audio products – but also with its fair share of snake oil salesman.) He's also into all sorts of music, not just the typical audiophile fair, so I was anxious to hear his latest creation. I'm happy to have made his acquaintance and sincerely hoped his gear would live up to its name.
Well, it gives me great pleasure to say: the Audiant 80i certainly lived up to the hype. I have to tip my hat to my friend and fellow audio reviewer, Neil Gader at The Absolute Sound. He picked the perfect title for his review of the 80i. He called the unit "The Right Amp at the Right Time." That says it more succinctly than I ever could. Basically, an integrated amplifier is a receiver without the tuner section—a pre-amp and an amplifier in one chassis. Audiophiles consider integrated amplifiers for a number of reasons, price and space considerations being two of them: having separate boxes for your amp and pre-amp raises the footprint as well as the cost. On the design front, the Audiant has beautifully clean, modern styling. The brushed aluminum and black box looks like something that could be at home on the U.S.S. Enterprise, or the Guggenheim Museum. Its front plate sports a large volume knob (centered on the chassis) and a black glass touch panel, which spans across the front end of the unit. This is how you select your sources, by touching the corresponding labels (phono, disc, aux, etc.). This is a nice touch (no pun intended).
The unit has all the inputs you need in order to keep up with today's constantly evolving media delivery systems. You get a full phono-stage (so if you have a turntable, no need for a phono pre-amplifier, just plug and play), a USB input for your computer or music server, digital COAX and multiple optical inputs (perhaps for your new smart TV or Blu Ray player), as well as analog inputs. Have an old tuner with a sound you just can't live without? No problem, plug it into the Audiant 80i and you're off and running. It even comes complete with pre-amp outputs in case you have a beefier power amp you'd like to use in order to drive your older, perhaps less efficient, loudspeakers. Perreaux pulled out all the stops for the design of the 80i, and the result is a component that is surprisingly future-ready. I hate the phrase "future-proof". How the hell can you ever design electronics that will never turn obsolete? The answer is, you can't –- especially at the rate in which the world of consumer electronics is constantly changing. Investing in the 80i, however, provides you with the ability to play all your current sources, and even increase the performances of some of those sources. Take the digital output of your satellite receiver for example: connect the box to the Audiant and experience greater clarity in the audio of your favorite television programs.
Enough with the look and feel of the unit, what about the sound? This thing packs a punch that would surprise even the most discriminating listener (though you may expect that in a unit that weighs a fair amount). The Audiant's sound is authoritative and clear. It's dynamic and airy, with resolution that allows you to hear deeply into the music. This helps the listener get lost in the sound, and creates an enveloping soundstage that helps to paint a holographic image of the recorded event (providing the source is of decent quality of course -– crap in, crap out remember). The price tag may sound a little steep, but believe me: you can find products in hi-fi that cost a hell of a lot more that deliver a whole lot less. If you're looking for a high-quality building block for a stereo system at home, and your taste has outgrown the big box stores, the Perreaux Audiant 80i is not only a great choice for today, but this thing will keep you listening for many years to come. I highly recommend this product, and given the fact that I've been using the same reference amplifier for over a decade (and have tried many others) I can safely say I doubt you'd be disappointed. This component represents what is so great about high end audio: great sound as the result of great engineering… And the sheer love of music.